2021 WV HS Coaches Clinic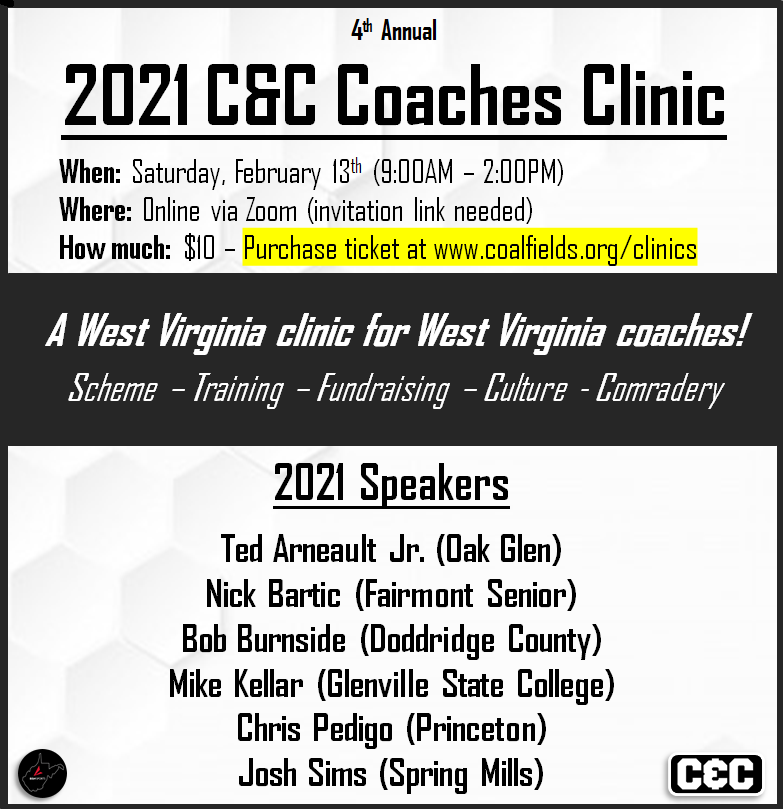 This Saturday! (CLICK HERE FOR MORE INFO)
---
---
Honorable Mention
49 – Carter King (Parkersburg) 2022
52 – Keynan Cook (Woodrow Wilson) 2022
53 – JT James (Hurricane) 2022
54 – Noah Waynick (Huntington) 2022
---
TIE – 5. Jameer Hunter
Hunter is a lesser known name out of the eastern panhandle. Last season he only recorded 16 receptions but for over 500 yards (an insane 34 yards per catch average). His catches come in a variety of fashions with deep balls where he gets behind the defense, diving sideline grabs, and some screen plays where he gets to play in space. Right now, the best thing for him will be to get more film but he impresses with some highlight plays and noticeable athleticism.
---
TIE – 5. Cyrus Traugh
Going into 2020, the Patriots had two wide receivers ranked on the Big Boards but neither were Traugh. By the end of the season, Traugh was a bright spot on the Parkersburg South offense. Used in several ways by Coach Nathan Tanner, he was able to display his slashing and playmaking abilities. He possesses that innate feature to plant, make a move, and get north. Only a rising junior, his speed is well-developed and should improve further.
---
4. Jah'den Estep
Estep developed into one of the key weapons for South Charleston's top ranked offense. At the slot position he was able to hurt the defense in many difference ways. He had a good sense of catching short passes and immediately getting upfield. Estep also seemed well-coached in his ability to move with the quarterback and find the soft spot of the defense. Of course, what sets him apart is some very good foot speed and a vertical utility that frustrates defensive schemes.
---
3. Roman Pierson
Pierson is probably the best overall athlete on the list. He could go toe-to-toe with some of the fastest in the state while also pushing up towards 190 pounds. This makes his body already developed for the wear and tear of college football to some degree. Outside of his physical build, he also displays a competency for making different types of catches and also an ability to make others miss. It also helps he was brought up in the standard program and offense for West Virginia.
---
2. Chase Hager
Hager is not a new name to any top wide receiver lists. Despite being the smallest in the Top 8 listed today, that has not stopped him from being a pest to cover. Focusing all his attention on tight route running, agility, and foot speed- he often does not let the defender get a hand on him and then gets the opponent completely out of position. The knock, of course, is his size which could be an obstacle on the next level especially when blocking. Still, his numbers speak for themselves.
---
1. Spencer Powell
Powell was touted since arriving as an eighth grader and has lived up to the praise. Though his routes and agility are not quite as clean as others listed, he makes up for it and then some with some straight line speed, jumping range, and great length that creates extreme mismatches in coverage. Powell's top feature is his hands which have hauled in many contested passes in his first two years. The fact that he will only be a junior is alarming because his ceiling looks to be very high.
---
Keep An Eye Out
Who are some of the next ones up? Huntington seems to complete their wide receiver trio with rising senior Naykin Harrell and rising sophomore Malik McNeely- both bringing an athletic mix of size and speed. The eastern panhandle always has the pipeline turned on as Musselman's new star might just be 6'2 wideout Ray Adames (2023) while Martinsburg continues its streak of speedy slot players with Sirod Musgrove (2024).