2021 WV HS Coaches Clinic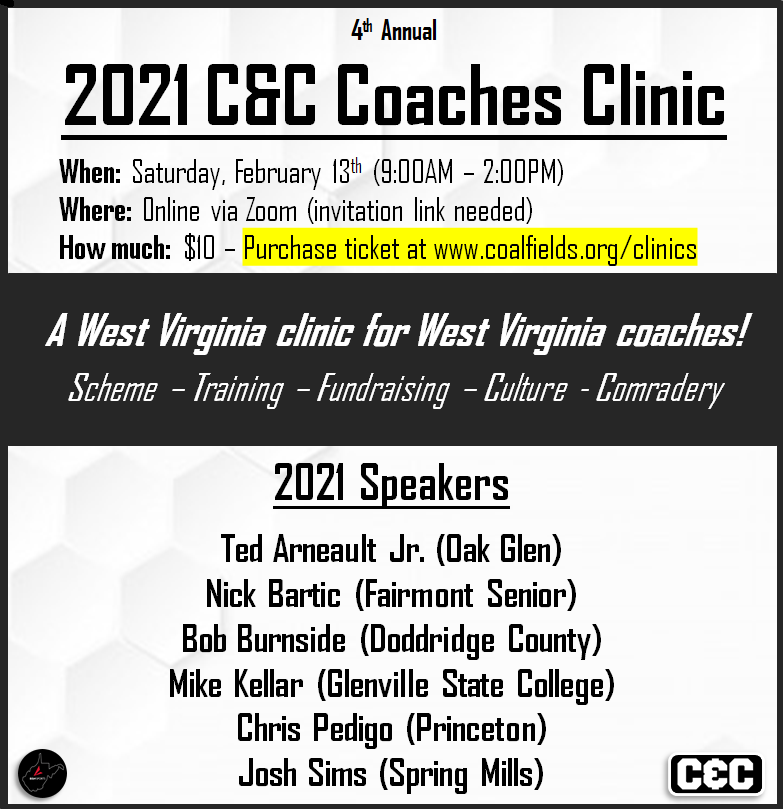 This Saturday! (CLICK HERE FOR MORE INFO)
---
---
Poca's Toby Payne (2022) and Fairmont Senior's Evan Dennison (2022) and Kayson Nealy (2022) will be ranked at other positions later on
---
Honorable Mention
49 – Cyrus Goodson (Independence) 2023
49 – Dawson Price (East Hardy) 2023
50 – Devin Hatfield (Herbert Hoover) 2022
---
TIE – 4. Jacob Burns
With the hiring of Joey Fields the Huskies of Herbert Hoover have immediately became one of the better passing offenses in AA. Jacob Burns heavily benefitted from this scheme change as the 6'3 wide out became a top target. What stands out on the film for him is his ability to play the ball during contested passes. He utilizes his large frame better than most his age. His athleticism should see improvement over the next two years to really complete him as a wide receiver. He should develop well playing in a college-style offense.
---
TIE – 4. Jayden Cheriza
Cheriza is the youngest of any in the top five- making the list after his debut freshman season. He started both ways for a loaded state champion Polar Bear squad. The potential for his ability to become an athletic deep threat is foreshadowed. He is a pretty organic runner and very good for his year in regards to strong route running especially on deeper passes. As his body grows, he will be able to handle much larger loads on both sides and rise as a statewide star.
---
3. Gus Morrison
Morrison was on our radar going into 2020 but we did not expect to see his production jump so high. He did everything for the state runner-up Rebels. As commonly seen in Class A, no matter what his natural position, Coach Rick Haught found ways to get the ball in his hands. Morrison found success running a variety of sweeps but also catching in the passing game- pretty much bodying inferior athletes. With his frame, length, and track-style athleticism- he fits the billing in many ways. It is also worth mentioning that he is also an effective punter and defensive back.
---
2. Tariq Miller
Miller has produced for North Marion for years now. At this point, he still is a bit of a local secret but his value should be rising going into his senior year. He checks many marks including a visual difference in speed compared to his opponents and the ability to make people miss / make normal plays into big plays. He has benefitted greatly by being in an advanced offensive system coached by Daran Hays. We expect a monster statistical year for Miller as a premiere athlete in Class AA.
---
1. Jacorian Green
Green combines many of the great traits listed on previously players. He possesses both the noticeable difference in athleticism as well as a 6'2 frame to make his catch radius much larger. Green also plays in an evolved Bluefield offense that allows him to grow as a wide receiver. The Beavers have been on a run of skill players for several years now (well, since 1960 basically) and this has seemed to sharpen iron with iron. Athletic. Playmaker. Long. The #1 wide receiver in AA/A.
---
Keep An Eye Out
Outside of Cheriza, there is another 2024 wide receiver slotted to be ranked in the Top 25. Independence's Trey Bowers (2024) proved to be a vital component for the Patriots' quarterfinal run. At 6'0″ 170 lbs with solid athleticism, he appears to be on his way to being a top receiver within the state. Tymir Ross of Berkeley Springs (2023) possesses similar size and has helped the Indians become a notable passing offense. Aiden Slack of Logan (2023) has delivered statistically since being a freshman and if he continues down his pathway- should really be an interesting prospect with his 6'3 size. Finally, Linsly also has a large target in Nathan Coleman (2023). At 6'4″ 180 lbs, he physically overlooks his peers. He is worth following this season to see if his production increases.
---